The purpose of Nederlands Dans Theater (NDT) is to offer unique experiences and perspectives in dance that engage conversation and promote diversity. NDT is a leading contemporary dance company dedicated to creation, research, and talent development. The company is led by artistic director Emily Molnar and managing director Willemijn Maas. In its commitment to innovation throughout all aspects of the company, NDT collaborates with international choreographers and artists and connects with audiences and communities in The Hague, the Netherlands, and all over the world.
At the heart of NDT is a commitment to collaboration, curiosity, innovation and community. Like all art, dance creates, provokes and inspires an open space for dialogue towards an inclusive society. We believe every human being deserves to experience the pleasure of art and that today, more than ever, we need channels of expression to help us examine the world.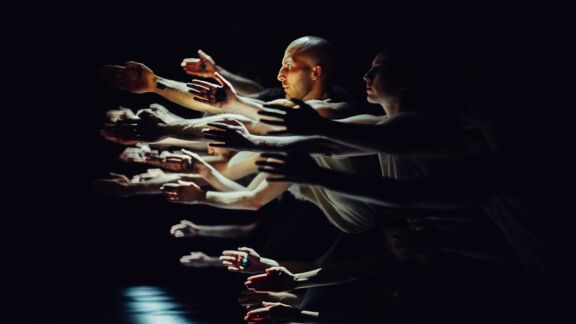 'Figures in Extinction [1.0]' (2022) by Crystal Pite in collaboration with Simon McBurney.. Photo: Rahi Rezvani.