The first two programmes of the 2020-2021 season will be made available to you as a live stream: the performance danced by the dancers of NDT on stage in the Zuiderstrandtheater will be filmed live and then streamed. This means that you can attend the performance live at home, and watch the performance on a screen in your own living room. This is by no means a diluted theater experience. The dancers and support teams make every effort to make your visit to our online 'theatre' as special and inspiring as possible.
The live stream consists of an introduction and the entire performance itself. Tickets for the live streams cost € 15 each.
Zuiderstrandtheater asks you to only order tickts for you and your own household, so they are able to maintain the 1,5 meter distance between different households.
In that case, you are able to take a seat in the downstairs area of the auditorium. Employees of the Zuiderstrandtheater will guide you to your seat. Before visiting the Zuiderstrandtheater, please contact the box office so that they can expect you and take into account a place that is easily accessible to you (070 88 00 333).
We would like to ask you to consider the following factors prior to your visit to an NDT performance, in line with the guidelines of the RIVM:
Buy your itckets online
Visit with a max. of 5 persons, that are memeber of one household
If you have symptoms, stay at home and don't come to the theatre.
Do you have a housemate with symptoms that may indicate Corona? Then stay at home as well.
Wash your hands with soap and water before coming to the theatre.
Cough and sneeze into your elbow, and use tissue paper.
Always take into acount a 1,5 meter distance to other people
Take your coat and drinks with you in the auditorium (after the performance, the bar is closed)
Always follw directions given by Zuiderstrand theater personnel
We regret to inform you that NDT is forced to cancel all remaining activities up to June 1st, 2020 as a result of the updated measures taken by the National Government against the spread of the coronavirus. It concerns a part of the Dutch tour of Standalone by NDT 2 (March 13 – April 11) and the complete Dutch tour of Schmetterling by NDT 1 (May 1 – May 30). The theaters will keep you informed on all future developments, and ticket buyers will receive detailed information as soon as possible. Also the international tours and educational activities up to June 1st have been cancelled, including the school performances on April 6 and 7 and several workshops.
Friends will receive invitations to Friend activities by e-mail. Friend activities will also be announced on this website, as well as in the Friend newsletter.
We will use your contribution to pay for, among others, talent development and art education. To thank Friends for supporting our company, we use a small amount of your contribution for organizing Friend activities.
You can already become a Friend starting € 60 per year (NDT Friend duo € 100) or you can donate a higher amount. You can also donate with a gift deed, which gives you a tax benefit. We have set up the Fonds Nederlands Dans Theater for donations of € 1000 or more. More information
NDT requires a revenue of approx. 15 million euros. The Ministry of Education, Culture and Science's national subsidy and the municipality of The Hague's municipal subsidy accounts for approximately 9 million euros in total. Revenue from performances, tours, and other activities is approx. 5 million euros.
In 2019, a total amount of more than 1.2 million euros was obtained through Sponsoring & Fundraising.
The various streams of revenue are as follows: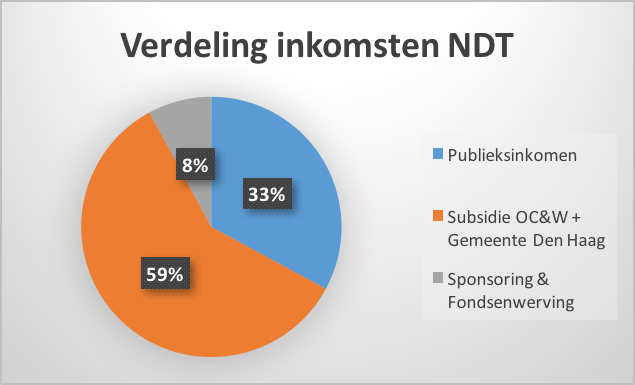 Breakdown of NDT's revenue
Audience revenue
Subsidies from the Ministry of Education, Culture and Science and the municipality of The Hague
Sponsoring & Fundraising
NDT doesn't sell tickets, tickets can be bought at the theater's box office. Any questions on performances in The Hague (Zuiderstrandtheater, Lucent Danstheater, Theater aan het Spui) can be adressed to the Zuiderstrandtheater boxoffice.  Check out the list of (Dutch) theaters here.