Fonds NDT
The easiest way to become a member of the Fonds is by signing up on our website. It is also possible to complete a donation agreement and send it to NDT. The agreement is available for download here. It is possible to make an appointment if you prefer to have an in-person conversation, in which our general director Willemijn Maas will join us if you wish. Please inquire with Barbara de Heer, Manager of Sponsoring & Fundraising, 06-158 639 50 or barbara.deheer@ndt.nl.
1,500 euros a year for a period of five years or a one-time donation of 2,500 euros. By making a donation as a private grant agreement, you will be granted an additional tax advantage.
Should you decide to enter into a five-year agreement with us, it is possible to register your donation as a private grant agreement. Periodical donations made to Fonds NDT can be used as tax deductions. You are granted additional tax advantages as you are making donations to a cultural institution. You are allowed to increase the amount you donate yearly by 25%. However, this kind of periodic donation is required to be documented as being for a minimum period of five years and must be recorded as an agreement in writing. The donation agreement is available for download here. The maximum size of the tax deduction will depend on your income and age. You can calculate your tax advantage, based on your personal situation, here.
Benefits that are granted will depend on the size of your donation. Please take a look at the benefits here.
Yes. NDT arranges special activities for fonds members who live in Amsterdam or its surroundings, such as unique introductions, dinner in the theater with dancers and the management board, and post-performance drinks for each first performance at Internationaal Theater Amsterdam (ITA) or Nationale Opera & Ballet (NO&B).
It is possible to allocate your donation to specific projects that pertain to talent developments, for example, the NDT 2 dancers, the NDT Summer Intensive, or a new creation.
Yes, this is possible. You may cancel throughout your membership period by calling 070 – 88 00 178 or by sending an e-mail to fonds@ndt.nl. Please note that this does not apply to members who have entered into a grant agreement, as they are bound to this for a minimum period of five years. The grant agreement will be automatically terminated after five years, unless you have indicated otherwise.
The Fonds NDT has been imbedded in the existing structure of NDT and has been incorporated into the articles of the foundation. Two fund managers, who will have an overview on the expenses of the foundation, have been appointed. At the conclusion of each calendar year, they, the management board, and NDT's supervisory committee will discuss which objectives and projects shall be funded by donations.
From a fiscal point of view, it is imperative that any donations must be made out of generosity (philanthropy). This means that no reciprocation of any monetary value may be offered in return. However, evidence suggests that this should not be interpreted as in absolute terms, as it appears to suffice if a donation is "almost exclusively" made out of generosity. For taxation purposes, this means 90% or higher. This means that a maximum amount of 10% may be offered as compensations with a monetary value can be offered while retaining the tax advantage of the donation. ANBI legislation also appears to accommodate this interpretation. However, a confirmatory response by the State Secretary of Finance has not yet been made.
Considering the above, we cannot offer reciprocal complimentary tickets to performances if the donation has been 5,000 euros or lower.
NDT requires a revenue of approx. 15 million euros. The Ministry of Education, Culture and Science's national subsidy and the municipality of The Hague's municipal subsidy accounts for approximately 9 million euros in total. Revenue from performances, tours, and other activities is approx. 5 million euros.
In 2019, a total amount of more than 1.2 million euros was obtained through Sponsoring & Fundraising.
The various streams of revenue are as follows: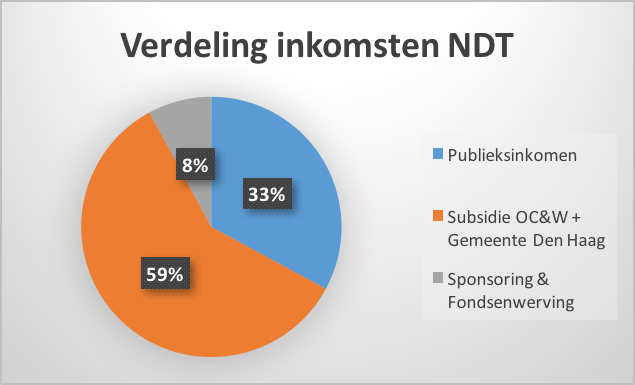 Breakdown of NDT's revenue
Audience revenue
Subsidies from the Ministry of Education, Culture and Science and the municipality of The Hague
Sponsoring & Fundraising